The Skill Select issued invitations for the 3rd August 2016 round. The results of these invitations are given below:
Under Subclass 189, the independent skilled visa, Australian immigration department issued 1400 invitations. On the other hand, a total of 100 invitations were issued for the regional skilled visa category – subclass 489.

Till the latest round of the Australian immigration year 2016 – 2017, a total of 4450 invitations were issued within the first two months of this program year. These applications were issued for subclass 189 skilled visa category. The applications for invitation issued for subclass 489 skilled visa category include a total of 300 invitations for the first two months.
The point score for most of these invited candidates was 65 for both subclass 189 as well as subclass 489.
3rd August 2016 Results
The following graph shows the points for clients who were invited to apply in the 3 August 2016 round.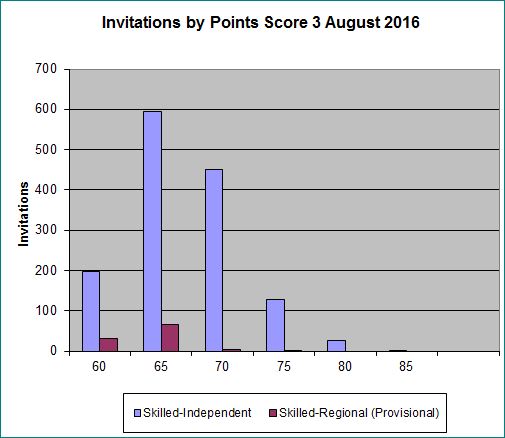 Invitation Process and Cut Offs
Australian immigration department selects a prospective candidate to issue an invitation on the basis of their score on the points test. The minimum requirement for the point score is set 60 points. Candidates securing highest point score above 60 are issued an invitation to apply.

In some cases, the point score of more than one candidate is same. To deal the situation, the immigration department issues an invitation to apply on the basis of the time a candidate applied for immigration. One, who has applied earlier, is issued an invitation. The date is assessed through the Expression of Interest (EOI). The EOI with an earlier date is preferred over an EOI with a later date.
Australian immigration is getting popular with each passing day. This keeps on changing the occupation demand for skilled workers. As the number of applicants or prospective skilled visa holders increase, the demand in the Australian labour market changes.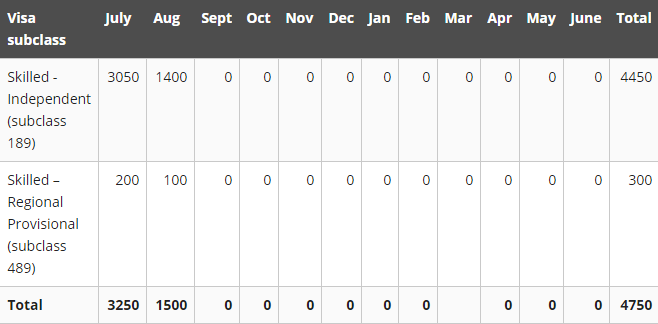 Currently, the in-demand occupations from occupation list of subclass 189 are preferred. Once the requirement is filled, then the invitation applications for subclass 489 are processed. This is the reason for such a huge difference in the number of invitations between both visa subclasses.
Accountants, Auditors, Company Secretaries and Corporate Treasurers, ICT Business and System Analysts, Software and Applications Programmers, other Engineering Professionals and Computer Network Professionals are currently in-demand occupations.
Images Source: border.gov.au
Comments
comments