Immigration, Refugees and Citizenship Canada (IRCC) provided some insight on the Express Entry selection system. IRCC is definitely making changes to their own system and excels in making it better for the applicants.
Do you know that IRCC has invited 16% of either cooks or food service managers out of their entire job quota every year? The reason is that such job offers were weighted heavily under the CRS.
According to new information provided by the IRCC during the 24th Annual Immigration Law Summit, almost 25% of the entire applications received an Invitation to Apply (ITA). Good news is that IRCC is planning to issue more ITA's in the coming year 2017 which will provide more chances of selection to applicants remaining in the Express Entry pool.
Qualifying job offers
Until November 19th, 2016, applications with a qualifying job offer which is supported by the LMIA were awarded 600 points. But, it has changed since the new implementations to either 200 or 50 points based on the job level. It's a great change because even those applicants were getting an ITA who would be placed among of the below 7% based on points excluding the points awarded for a provincial nominee or qualifying job offer. You are not going to believe that 66% of such applicants receive an ITA because of the virtue of having a job offer. Now, those candidates will be well placed and even applications with no job offer and better point scoring may get approved.
It's a great move by the IRCC to provide balance in Comprehensive Ranking System (CRS) so candidates without a qualifying job offer can receive an ITA based on their experience and skill. Still, candidates with a job letter get a significant increase in their points and more likely to get an ITA if they have good skills and experience.
CRS new policies may take some time to be implemented
Although the points awarded for a job offer has decreased from 600 points to 50 points in the most cases, you should also know that the number of applicants who can claim these points has substantially increased. IRCC has provided relaxation to allow maximum candidates to be benefitted from an employer-specific work permit.
The question is that whether they're going to imply the new rules on the candidates already in the Express Entry Pool? Or it's going to be implemented for the candidates making an entry in the Express Entry pool after November 19th, 2016? They may keep the old system of point rewarding because candidates with a job offer may claim additional points.
In the year 2016 before November 19th, over 30% ITA's were awarded to the candidates with a job offer.
October 3 Snapshot of the pool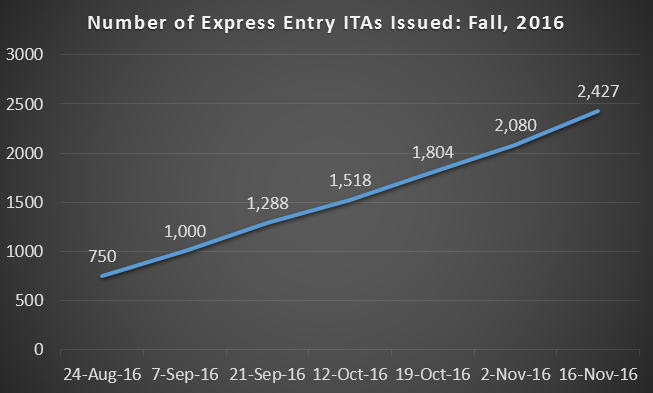 There have been 20 draws conducted so far in the year 2016 and 7 this fall. The graph will show you a number of ITA's people received from August 24th to November 16th. A total of 60,689 candidates applied for the permanent residency and were active in the pool. IRCC has issued 20,588 ITA's to 19,088 individuals over 20 draws and there's more to come. One candidate can receive more than one ITA. One case is that a candidate received an ITA but wanted to apply at a later date, and re-enters the pool. He/she can again be awarded.
It indicates that 25% of the candidates that were active in the Express Entry pool received an ITA. Over 25000 individuals and families have settled in Canada in the year 2016.
Pathways for graduates and students
IRCC clearly want former international students to get ITA because they have spent time in Canada already and know the culture really well. Also, their objective is to increase the number of foreign students who can study in Canada. The International students who have studied in Canada will be awarded:
15 points for candidates having one-year or two-year post-secondary degree.
30 points for candidates having a 3-year post-secondary degree, a university-level degree of the master-level program or a doctoral-level degree.
The purpose of awarding points to International students is to increase the chances of receiving an ITA up to 40% of the whole IRCC's immigration quota.
Provincial Nominee Program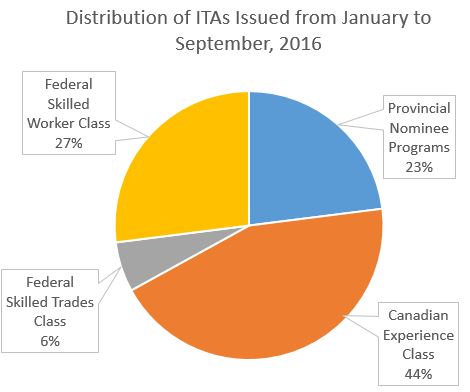 Do you know that Provincial Nominee Programs (PNPs) contain a category aligned with Express Entry? Yes, almost 13% of candidates received an ITA in the year 2015 that were enrolled in any of the Provincial Nominee Program. The interesting fact is that the number of people receiving an ITA because of their enrollment in any Provincial Nominee Program increased from 13% to 26%. It really shows that how important it is to keep you updated on the PNPs.
Keep it noted that you must be eligible for any of the federal economic immigration programs to enter the pool. The three programs are CEC, FSW, and FST.
Moreover, IRCC is planning to invite over 51,000 candidates through Provincial Nominee Program in the year 2017; increasing it to 33% of the whole quota.
Human Capital, Skills, and Experience
Summing it up, now receiving an ITA actually depends on human capital, skills, and experience. If you a skilled person with some good experience in the relevant field, you're a strong candidate and likely to receive an ITA. IRCC may make further changes in their policies in the coming year.
There are chances that people having siblings in Canada may receive additional points. But, we aren't sure when it will be implemented. Now, the candidates are likely to get immigration who are eligible to enter the pool. It's the best time to apply for Canadian immigration because you won't be getting a better opportunity.
comments