The Skilled Migrant Category Expression of Interest selection took place at approximately 1.00pm NZ time on Wednesday August 17, 2016.
The latest draw shows that you don't need exactly 140 points to get selected. As you can see in the selection criteria, 48 percent applicants of the total with less than 140 points but more than 100 points were selected.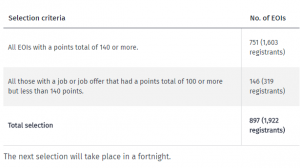 If you need any help regarding New Zealand Immigration, Australian Immigration, Canadian Immigration or any else, you are always welcome to contact Immigration Experts. At immigrationexperts.pk, we offer the free Visa assessment and guaranteed immigration. If you have any further questions, you can contact us at +92 308 5857777.
Comments
comments