Being a partner of New Zealand resident of citizen allows you to apply for the New Zealand Partnership Resident Visa. Once you apply, the New Zealand immigration department will review your application and decide the rest. If they approve your application, you will be allowed to live, study, or work in the New Zealand for unlimited period of time.
Things You Will Find In This Page
New Zealand Partnership Resident Visa Allows You to
Live for an indefinite period of time in New Zealand. You are allowed to study or work wherever you want.
Take your dependents under the age of 24, if you mentioned them in the application.
Get your New Zealand Immigration straightaway.
Things to note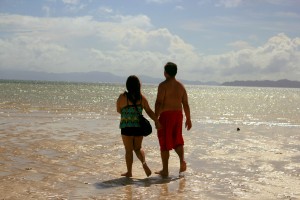 If your spouse's citizenship is based on their Australian nationality, you are only eligible for this visa if they are living in New Zealand.
The major requirement of this New Zealand Partnership Resident Visa is that both of you should be living together for past five years outside of New Zealand. If you meet this requirement, you are eligible to apply for New Zealand Partnership Resident Visa. But, when you apply, your partner needs to be overseas or he should be back for only three months.
What is the Procedure for New Zealand Partnership Resident Visa?
First of all, your partner requires to sign a 'Partnership Support Form for Residence'. Now, you need to get this completed form from the partner along with other supporting documents.
Get a 'Residence Application' form, and complete it. Now, you need to send the application to New Zealand Immigration Department along with immigration levy and application fee.
For the fees and requirements, you can visit the official website of New Zealand immigration or Contact us to handle your case.
Once you complete all of this procedure, you need to wait for the response. Each visa application can take various months.
immigrationexperts.pk is operating in Pakistan for many years and successfully handled a lot of visa applications. At Immigration Experts, we offer you free visa assessment and guidance. If you have any plans to move to get New Zealand Immigration or any other immigration, you can always contact us.
comments