The west provinces of Canada, especially Columbia, Alberta, Manitoba and Saskatchewan has invited a large number of Canadian immigration applications under Provisional Nominee Program (PNP).
Numerous openings for skilled workers, graduates, entrepreneurs, healthcare professionals, farmers and other occupations are announced.
The focus of investment, employment, development and immigration is moving to the west part of Canada as per 2014's report of Canada's economic growth.
The Express Entry selection system has increased the number of Canadian immigration since its opening in January 2015.
The department of population and economic growth in Canada has reported that Canadian immigration will be the key source for population growth in British Columbia.
Apart from Express Entry System, the government introduced Skills Immigration Registration System (SIRS), inviting the candidates on priority basis. British Columbia Provisional Nominee Program (BC-PNP) has received numerous applications since then.
BC PNP also provides the international students the opportunity to work anywhere in Canada if they graduate in any program from one of the universities in the region.
Alberta Immigrant Nominee Program (AINP) is another opportunity for skilled workers, entrepreneurs and graduates to live and work in Canada. AINP has further following sub categories:
Compulsory and Optional Trades Category
Engineering Occupations Category
Post Graduate Worker Category
Skilled Worker Category
International Graduate Category
Semi Skilled Worker Category
Self Employed Farmer Stream
Manitoba Provincial Nominee Program (MPNP) has invited applications for its skilled workers category with base and enhanced components. The rounds of application usually recur once per month. The subcategories are given below.
Skilled Worker in Manitoba
Skilled Worker Overseas
Business Investor Stream (MPNP-B)
It is important that a candidate's net worth must be equal to $350,000 CAD to apply under MPNP-B category.
Saskatchewan Immigrant Nominee Program (SINP) is popular for its immigration programs under the following categories: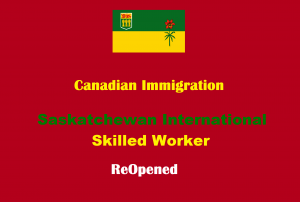 SINP's Express Entry aligned option under International Skilled Worker Category
International Skilled Worker Category : Employment Offer
International Skilled Category: Occupations in Demand
SINP Experience Category
SINP Entrepreneur Category
SINP Farm Category
SINP International Skilled Category – Employment Offer is still open. Candidates interested and eligible for this category can apply now.
Comments
comments