There have been major changes made to the Comprehensive Ranking System (CRS) by the Immigration, Refugees and Citizenship Canada (IRCC) for its Express Entry immigration selection system. The expected changes were announced earlier this year which will have a major effect on applicants for immigration to Canada. The changes also include the major federal programs including Federal Skilled Worker Class, the Canadian Experience Class, and the Federal Skilled Trades Class.
All the changes published in the official gazette of the government of Canada will be applicable from November 19th, 2016.
According to the revised regulations, a qualifying job offer is worth 200 points if the offer is related to Major Group 00 of the National Occupation Classification (senior managerial level). The occupations include:
0011 Legislators
0012 Senior managers and officials (Government Offices)
0013 Senior Managers – Finance, Communications, and related businesses
0014 Senior Managers – Education, Health Sector, Membership Organizations and Community Services
0015 Senior Managers – Broadcasting, Trading and related services that don't fall in any other occupation category
0016 Senior Managers – Utilities, Construction business, Production and Transportation
Before the revised CRS, a qualifying job offer supported by a Labor Market Impact Assessment (LMIA) was worth 600 points but now it would be either 50 or 200 points, depending on the occupation level. There are a few work permit holders who may be granted points even if they haven't obtained an LMIA.
Individuals who have been issued a work permit under the North American Free Trade Agreement (NAFTA) will be rewarded points. The same applies to the individuals getting a work permit under the "Significant benefits to Canada" criteria.
For the above two cases, individual must be working in Canada for no less than a year and the job letter must be issued by the same employer mentioned on the work permit. Read the table below: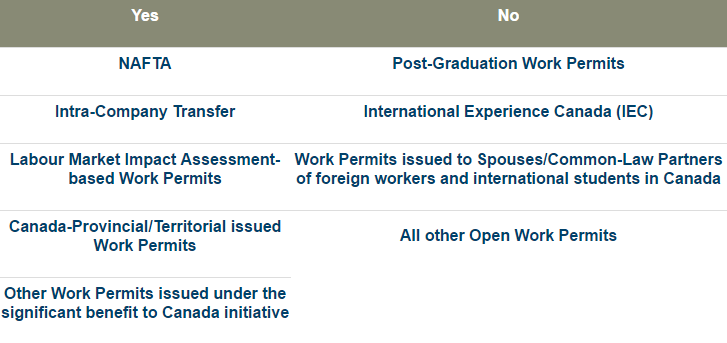 Things You Will Find In This Page
Canadian study now a factor
For a Canadian educational credential, the points assigning would be as below:
0 Points – for the foreign nationals having a secondary school educational credential
15 points – for the foreign nationals having one-year or two-year secondary education degree
30 points – for the foreign nationals having a post-secondary degree of three years, university level degree at the master's level (applying for a professional degree) and a university level program at the doctoral level.
Points will be assigned for Canadian study experience to those foreign nationals:
Who have studied in an educational institute in Canada
Who were enrolled in a study or training program for at least 8 months
Who were available physically in Canada for a period of 8 months
Before there were no points available for foreign students but now the introduction of points ranking provides a pathway to permanent residency in Canada to the International students and graduates.
Invitations to Apply
In the revised CRS, now the applicants who receive Invitation to Apply (ITA) will get 30 more days to submit their applications to Immigration, Refugees and Citizenship Canada (IRCC). Before, the time period was 60 days. Now, the foreign candidates get a 90 days deadline to apply.
The consequences for candidates in the pool
For the candidates having a profile in the Express Entry pool will automatically be granted points by the IRCC as of November 19th changes in CRS. For those applicants without a job offer that has not seen any rise in the points will now be able to compete with candidates having LMIA-based job offers as their points will be dropping by up to 550 points.
According to the new CRS, the value of applicants with job offer will go down from 600 points to either 200 points or 50 points depending on the position offered to them by the employer. In the IRCC's Express Entry Report for 2015, Almost 47% applicants received an ITA who had a job offer. Now, it's going to change and other candidates will have better chances to be accepted or receive an ITA. However, the applicants with a job offer would get a sheer advantage of either 200 points or 50 points and will have more chances to get an ITA.
Provincial Nominee Programs
Applicants that were nominated by the Provincial Nominee Program (PNP) will continue to be granted 600 points. The IRCC's immigration plan for 2017 revealed that around 51,000 immigrants would be welcomed to Canada through the PNP. It's a 7% increase as of the IRCC's immigration plan for 2016. So, it's important for the applicants to stay up-to-date on the Provincial Nominee Program (PNP).
comments