The total number of invitations issued in the SkillSelect invitation round on 12 April 2017 is as follows.
Things You Will Find In This Page
Invitations issued on 12 April 2017

Invitation Issued in 2016-17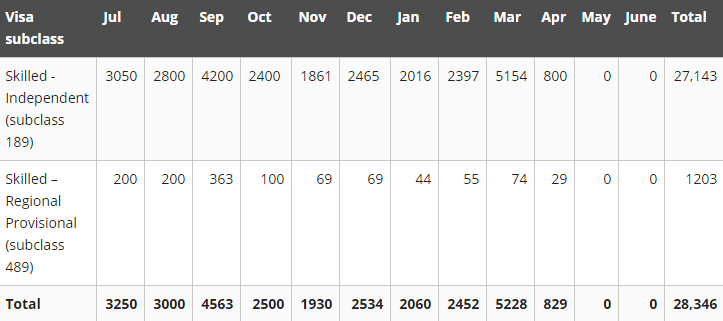 The figures included above do not mention the invitations regarding nominated visa subclasses of State and Territory Government. State and Territory Governments keeps on nominating for following streams, throughout the month.
Specific points tested skilled migration
Business innovation
Investment visas
Similarly, these governments separately provide the results for above-mentioned visa subclasses.
Cut-offs and Invitation Process
As we have observed in previous rounds, candidates with the highest ranking regarding their points score received ITAs for their specific visa. Clients having similar points scores get their invitations depending on the fact as to when they get their points score. Expressions of Interest (EOI), which relate to later dates of effect, receive invitations after those, presented at earlier dates.

Since, following occupation groups show high levels of demand. Hence, they get their processing through pro rata arrangements. This helps to ensure the availability of invitations during the whole program year.
Industrial, Mechanical and Production Engineers
Electronics Engineers
Computer Network Professionals
Software and Applications Programmers
Accountants
Auditors, Company Secretaries, and Corporate Treasurers
Other Engineering Professionals
ICT Business and System Analysts
SkillSelect allocates the available places for Skilled–Independent visas (subclass 189) on a priority basis. However, the remaining places are allocated to Skilled–Regional (Provisional) visas (subclass 489). In case, subclass 189 visas get all the allocations, it is possible that subclass 489 visas will remain deprived of such invitations.
The visa dates of Effect cut off and points scores for particular occupations are mentioned in the table below.
Please note: all pro rata occupations have reached their ceiling for this program year. No further invitations will be offered for these occupations until the 2017-2018 program year.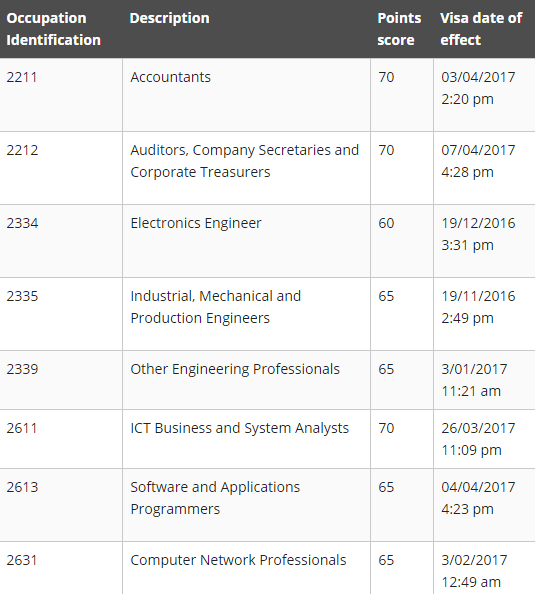 Contact Information
Contact Numbers: 051-8439994-7, 042-35911332
Islamabad Address: Office 1-A, First Floor, Sardar Begum Plaza, Jinnah Avenue, Blue Area, Islamabad, Pakistan.
Lahore Address: 61, Ali Street, Opposite Barkat Market, Behind Total Fuel Station, New Garden Town, Lahore, Pakistan.
Note: IELTS Classes by Immigration Experts has
Subscribe to our Youtube Channel to stay updated with our latest vide
comments